The nursery rhyme Old MacDonald is a true classic! This traditional American nursery rhyme is used all over the world in different versions, and it is also used in most preschools and schools in USA. So most kids know some of the lyrics, but maybe not all. But below you can see the full lyrics. And you can also listen to Old MacDonald Had a Farm.
Tip: Old Mc Donald Had a Farm is great for teaching children the different animal sounds. And if you are visiting a farm, this is the perfect song to sing! :)
Did you know... that the nursery rhyme Old MacDonald Had a Farm is translated into a lot of other languages? In Chinese there are i.e. several versions of the song in same tune.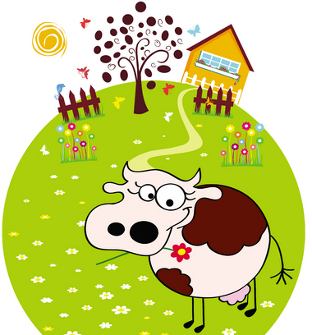 Old McDonald had a farm, E-I-E-I-O
And on his farm he had a cow, E-I-E-I-O
With a "moo-moo" here and a "moo-moo" there
Here a "moo" there a "moo"
Everywhere a "moo-moo"
Old McDonald had a farm, E-I-E-I-O

Old McDonald had a farm, E-I-E-I-O
And on his farm he had a pig, E-I-E-I-O
With a "oink" here and a "oink" there
Here a "oink" there a "oink"
Everywhere a "oink-oink"
With a "moo-moo" here and a "moo-moo" there
Here a "moo" there a "moo"
Everywhere a "moo-moo"
Old McDonald had a farm, E-I-E-I-O

Old McDonald had a farm, E-I-E-I-O
And on his farm he had a horse, E-I-E-I-O
With a "cwack-cwack" here and a "neigh, neigh" there
Here a "cwack" there a "cwack"
Everywhere a "neigh, neigh"
With a "oink" here and a "oink" there
Here a "oink" there a "oink"
Everywhere a "oink-oink"
With a "moo-moo" here and a "moo-moo" there
Here a "moo" there a "moo"
Everywhere a "moo-moo"
Old McDonald had a farm, E-I-E-I-O